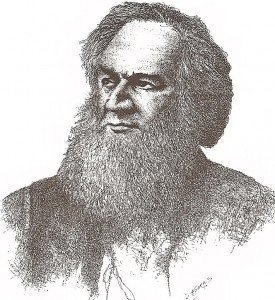 Stewards for the Gerrit Smith Estate National Historic Landmark (GSENHL) in Peterboro will announce plans for the 2013 Peterboro Heritage events at the annual Gerrit Smith birthday party on Saturday, March 9, 2013 at the Smithfield Community Center, 5255 Pleasant Valley Road in Peterboro.
The doors will open at 1:00 pm for the Stewart organizational meeting, program announcements, and overview of site hosting schedule needs and responsibilities &#8211 in-depth training to be held before we open for 2013 Heritage Season. At 2:00 p.m. Norman K. Dann PhD, professor emeritus Morrisville State College and Smith biographer will present on Gerrit Smith and Smithfield in 1863. Dann's program will be followed by birthday refreshments. The program is open for the public with a three dollar admission for adults, and free for students and 2012 GSENHL Stewards.
The 20th Annual Peterboro Civil War Weekend opens at 10 am on Saturday, June 9 and closes at 4 pm on Sunday June 10. Civil War military and domestic encampments with sutlers, exhibits, Civil War roundtables, programs, skirmishes, entertainment, book-signings, children's games, musical programs, reenactor units, town displays, and lectures have expanded to include newly developed historical interpretations. The Smithfield Volunteer Fire Department will barbeque chicken on Saturday.