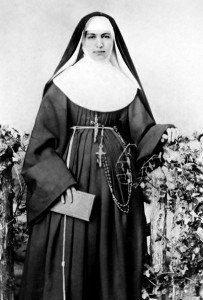 Women's Rights National Historical Park announces the opening of an exhibit about the work of Saint Marianne Cope, entitled "Saint Marianne: Blessed Mother of the Afflicted." The exhibit will open on Friday, March 8th in celebration of International Women's Day.
The exhibit will explore Saint Marianne's life work with the Sisters of Saint Francis, which began in Syracuse, New York and culminated in Hawaii with patients afflicted with Leprosy, now known as Hansen's disease.
Cope labored at the hospitals and homes for Hansen's disease patients and their children at Kalaupapa and Kalawao on the Hawaiian island of Molokai, leading to Mother Marianne Cope's elevation to Sainthood by Pope Benedict XVI. The exhibit will also focus on Kalaupapa National Historical Park, a unit of the National Park Service that commemorates the work of Father Damien (Saint Damien) and Saint Marianne.
A program about Saint Marianne and her work in Hawaii will also be offered to the public on March 8th at 10:30 am in the park visitor center at 136 Fall Street, Seneca Falls. Admission and attendance to the program is free of charge.
Women's Rights National Historical Park commemorates and preserves the sites associated with the First Women's Rights Convention, held in 1848 in Seneca Falls. "We are proud to be part of the National Park system, and we invite everyone to join us in celebrating International Women's Day," said Superintendent Tammy Duchesne.
For more information, visit their website or call (315) 568-002.