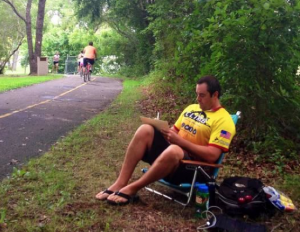 Parks &amp- Trails New York, the New York State Trails Council, and the New York State Office of Parks, Recreation, and Historic Preservation have announced the results of a New York State Trail User Count.  The study focused on 14 of the state's greenway or multi-use trails where volunteers conducted user counts this past August.  Based on the results of these counts it is estimated that over 2.2 million cyclists and pedestrians are using these trails each year.
The greatest estimate was over 650,000 annual users at the Hudson Valley Rail Trail in Ulster County. Other popular trails include the Jones Beach Bikeway, the Bethpage Bikeway, the Harlem Valley Rail Trail, and the Robert Moses Trail near Niagara Falls.
The estimates were calculated using a protocol established by the National Bicycle and Pedestrian Documentation Project.  The protocol has been employed previously by Parks &amp- Trails New York for annual Canalway Trail user counts.
"Multi-use trails are key elements of community infrastructure, providing important alternative transportation, quality of life, and economic benefits.  Plus, they are extremely popular, as demonstrated by the results of this first-ever statewide trail count," said Parks &amp- Trails New York Executive Director Robin Dropkin.   "With over 125 multi-use trails statewide, the 2.2 million trail users tallied in the count are only the tip of the iceberg."
The complete report may be accessed on the publications page of ptny.org.
Parks &amp- Trails New York is a statewide advocate for parks and trails, founded in 1985 to improve the health and quality of life of all New Yorkers by working with community organizations and municipalities to envision, create, promote, and protect a growing network of parks, greenways and trails throughout the state.
Photo: A volunteer conducts a count at the Bethpage Bikeway (provided).