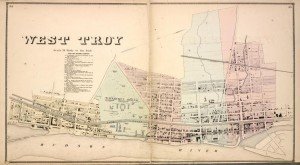 The Historical Society of the Town of Colonie is hosting a special presentation by Timothy Myers on West Troy (now Watervliet) Pottery, on Sunday, March 10, 2013 &#8211 2:00 pm at Town of Colonie Library, 629 Albany Shaker Road, Colonie (Albany County). Pottery from West Troy was shipped west and north on the Erie and Champlain Canals and may be found in many areas of the country.
Timothy Myers presentation will include a description of the methods of producing pottery &#8211 the potter's tools and techniques, the differences between redware and stoneware and the various types of stoneware products, and more. There will be a brief history of each West Troy Pottery with a map showing the location of each. Myers will also show photos of some outstanding pieces of West Troy Pottery that have sold over the last several years and will have on hand approximately 25-30 pieces of West Troy stoneware.
Myers has a BA in European History and in Cultural Anthropology- a Masters in American History and in Education Administration and Policy. His book on Myers Family History was published in 2005. He is a frequent contributor to Western &amp- Eastern Treasures Magazine.
For further information call Bebe Morehead at 694-8610 or Mark Bodnar at 459-5147
This event is free and open to the public- the Colonie Town Library is handicap accessible. Light refreshments will be available after the presentation.