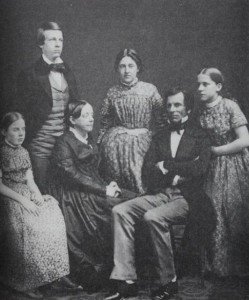 Manhattanites are agitating on behalf of the home of one of the city's leading 19th Century agitators&#8211Abigail Hopper Gibbons. She and her husband James S. Gibbons ran a strongly documented Underground Railroad site in Manhattan, at what is now 339 West 29th St., near 8th Avenue.
A hearing is scheduled for tomorrow, Tuesday, Feb. 12, at the Bureau of Standards and Appeals, over a developer's decision to add fifth floor to the four-story building, in violation of historic preservation rules.

The Gibbons home was well-known as a center for visiting abolitionist leaders, and as a safe harbor for escaping slaves.  As a result, the home was targeted during the Civil War Draft Riots in July 1863, and the two Gibbons daughters were forced to flee over the rooftops as rioters set fire to the building.  Fortunately, the family survived and the fire was extinguished before the building was ruined.
Abigail Hopper Gibbons, who was raised in a Philadelphia family active in the Underground Railroad, resigned from her NYC Quaker meeting after the meeting expelled her husband James for his radical abolitionism.  She became a leading nurse and health advocate for soldiers during the Civil War, and also emerged as a women's suffrage champion and a campaigner for prison reform.
Read more about the current preservation effort at the NY Daily News.
Photo: The Gibbon Family, 1854. Standing: William, Sarah, and Julia- seated, Lucy, Abby and James Gibbons. Courtesy Friends Historical Library, Swarthmore College.