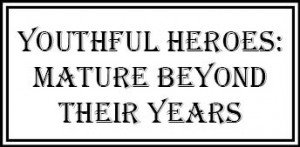 Heroes are defined in many ways—strong, brave, quick to act, selfless—and for the most part, we expect those traits to be found among the ranks of mature, responsible adults. But in 1927, in a span of less than thirty days, the North Country played host to two acts of heroism by local youths. Added together, the age of this remarkable pair of courageous children comes to just 19.
One incident involved a pair of teenage boys from Jay, New York, who were the victims of an accident at about 10 o'clock one morning. As they rode together on a wagon loaded with firewood, drawn by a single horse, something spooked the animal.
The horse panicked, broke free of the wagon, and ran off. The boys and the load of wood were hurled violently to the ground. The left leg of 16-year-old Francis Chabbott was badly broken, while 15-year-old Asa Darrah's right leg suffered the same fate. Darrah remained alert after the fall, but Chabbot was knocked unconscious.
The spill occurred about a mile and a half from the Chabbott farm, and Asa, in agonizing pain himself, feared his friend would die. No one was within sight or hearing distance of the accident scene, so rather than wait for help to arrive, Asa began crawling.
It's hard to appreciate the grit, determination, and physical pain he must have endured, but young Darrah refused to quit. Three hours later—bruised, beaten, and exhausted—he reached the Chabbott farmhouse and alerted the family. While Mr. Chabbott rushed to tend to his stricken son, a doctor was summoned from Ausable Forks to tend to both boys' injuries. They survived, but suffered intensely. For his efforts, Darrah was justly lauded as a hero.
The other incident occurred in the town of Martinsburg in Lewis County on the farm of Harold and Viola Hills. Viola was nearly nine months pregnant, about to deliver their third child. When mom went to town one day to shop for necessities, Katherine, 4, and Kenneth, 2, stayed with their father.
In order to perform the day's work, Harold took the children with him to the fields. It was a dicey proposition, attempting farm chores while watching his two young offspring. Before long, little Kenneth had wandered off and found his way into nearby Whetstone Creek.
The water was still high from spring flooding, and as the two-year-old was drawn into the water, he cried out for help. Out of hearing range, Harold was oblivious to Kenneth's plight, but four-year-old Katherine responded like a true hero.
With no regard for her own survival, and not knowing the depth or power of the stream, she entered the water and waded to where Kenneth was drowning. She plucked him from the water, but the footing on the riverbed was shaky at best, and the weight of her brother made it too dangerous for Katherine to attempt walking back to shore.
Realizing her predicament, she held the baby above the water and screamed for help. This alerted Mr. Hills, who managed to reach the children before Katherine's strength gave out. A catastrophe was avoided due to the quick thinking and bravery of a tiny child.
Though child heroes are uncommon, these two North Country youths performed their feats just 29 days apart. Asa Darrah's story, with elements of grit, friendship, and character, was lauded in the press. And it's a pretty safe bet that Harold Hills was properly chastised by Viola for his careless brand of child care.