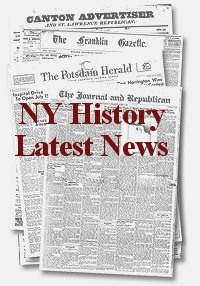 Each Friday morning New York History compiles for our readers the previous week's top stories about New York's state and local history. You can find all our weekly news round-ups here.
Subscribe! More than 3,200 people get New York History each day via E-mail, RSS, or Twitter or Facebook updates.
Related Articles
This Weeks Top New York History News
Nominations Made Historic Registers1805 Lemuel Haynes Sermon AquiredBell Removed From HIstoric ChurchPlattsburgh AF Base Museum ApprovedCanada Debates 1812 MonumentSlaves' Burial Sites Marked Onlin...
This Weeks Top New York History News
Mormons Acknowledge Black HistorySequestration Cuts National Archives HoursNew State Archives AccessionsMove On To Common Core AssessmentsA Historic Ship Rots In A ShedDigital Public Library of Ame...
This Weeks Top New York History News
Celebrating Black History in NYSProgress in Closing Erie Canal Trail GapsPreservation League Praises SchumerREI CEO Nominated Interior SecretaryPreserve NY Grants AvailableSaratoga NHP Celebrates 7...