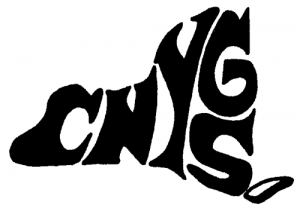 The Central New York Genealogical Society and the New York Genealogical and Biographical Society have organized and are jointly producing the first ever statewide genealogical conference in New York State.
Attendees will have an opportunity to advance their skills in researching New York State families and to build general skills. The two-day conference — scheduled for Friday and Saturday, September 20-21, 2013 &#8211 includes twenty lectures in two parallel tracks- a Thursday evening reception- two luncheons and a dinner banquet, speakers, and exhibits by vendors and societies. The conference takes place in the Holiday Inn and Conference Center, Liverpool, New York, just outside Syracuse.
Some of the nation's top experts in New York State and general genealogical research will speak, including Paula Stuart-Warren, Joseph Lieby, D. Joshua Taylor, Ruth Carr, Michael Leclerc, and Eric Grundset.  The full conference program is available online [pdf]. Preconference research activities will also be available on Thursday, September 19th and include a trip to the Central New York Genealogical Society&#8216-s renowned library and a bus tour of five local museums.
The Central New York Genealogical Society was formed in 1961 for the purpose of preserving, publishing and sharing genealogical information and resources. Toward that end, it has published Tree Talks, a 64-page quarterly. Tree Talks is a valuable source of information on tens of thousands of people who lived in upstate New York. Each issue contains abstracts of significant records from upstate New York counties and is fully indexed, annually.
During its six meetings held from March through November, the Society sponsors experienced genealogists to share their expert knowledge on the research and publication of ancestral information, and to educate in the professional standards of genealogy. Workshops and seminars are held occasionally, to assist beginners with their research. All meetings are open to the public for a small donation. Members engage in record-preservation projects to record, preserve, and report information for future researchers.
Conference sponsors include findmypast.com, Mocavo, New York State Archives Partnership Trust and the New York Public Library.