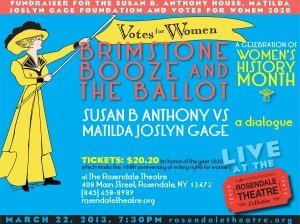 The hundreds of thousands of women who sacrificed their social standing, put their bodies and souls on the line and withstood furious reactions during the 144 year struggle to gain equal rights are still mostly invisible in history books. That's a loss for a number of reasons.
Far from being a dry subject, the movement was a cauldron of intellectual, emotional and spiritual passion. Suffragists brainstormed strategies for gaining equality, disagreeing vehemently with each other along the way. They challenged world history, had many alternative views of morality and religion, and fomented a head-spinning free exchange of ideas. Religion and politics were not subjects to be avoided.
It's incredible that their hard-won achievement of winning suffrage with the 19th Amendment less than 100 years ago is taken for granted and treated like the period at the end of a dry sentence today, as if the struggle for equality were over. The imprint of the suffragists' passion grows stronger with time, however, as visitors to the house museums of Susan B. Anthony and Matilda Joslyn Gage can attest. Renewed energy and the thrill of spiritual recognition is experienced by many who step inside the homes and actually touch objects that were touched by the courageous social warriors.
A performance dialogue billed as "Brimstone, Booze and the Ballot- Susan B. Anthony vs. Matilda Joslyn Gage" at the Rosendale Theatre on March 22 will bring to light the passionate beliefs that led to a split in suffrage movement in 1890 and resulted in Gage being written out of the history. The scholarly directors of the respective house museums, Deborah L. Hughes and Sally Rausch Wagner, will take opposite roles in reading the protagonists' correspondence about their differences. (How healing is that?) Hughes and Wagner will take questions from the audience, and a deep discussion of organizational tactics is guaranteed to ensue.
Far from being a soporific soup of acronyms splintering apart and recombining in different forms, a close look at woman's history reveals unsettling choices on a tightrope of practicality versus principle. While Anthony (1820-1906) narrowed her focus to winning the vote (a right long overdue even then), Gage (1826-1898) was way ahead of her time, and remains so. Gage opposed the merger of their original group with a bigger organization that included the Women's Christian Temperance Union, but  Anthony slipped away and voted in favor of the formation of the National American Womens Suffrage Association.
"Some of her letters are just funny," Wagner says of Gage. "She does not suffer fools gladly." While Anthony favored everyone having the right to vote, Gage worried about the effect religious right voters would have on freedom, according to Wagner. She was a staunch guardian of the principle of separation of church and state.
Gage de-bunked Christianity for its patriarchal foundation and espoused a matrilinear vision of pre-history. She, Elizabeth Cady Stanton, and a committee of like-minded women developed "The Woman's Bible" to correct the historical bias of the Bible. Gage admired the Haudenosaunee (Iroquois) Nation's equal gender roles, and the Native American name of Sky Carrier (translated) was bestowed upon her. Repulsed by Woman's Christian Temperance Union leader Frances Willard's push for a constitutional amendment declaring Christ the head of the American government, Gage organized the Woman's National Liberal Union to support a "free thought agenda." The government intercepted WNLU mail, but the group died a natural death anyway from lack of funds following its first and only publication, "The Liberal Thinker."
While Gage posits a many-pronged approach with no compromise in demanding justice on all levels at once, Anthony represents the tactic of focusing on one goal at a time, temporarily sacrificing related concerns. Strongly united at the inception of the movement, their break was bitter. Anthony actually deceived Gage about her political intentions and deleted Gage's role from the official history of the movement. But personal issues will be set aside during the "Brimstone, Booze and the Ballot" dialogue in favor of developing organizational tactics for the on-going equality campaign.
Wagner, now the Executive Director and Founder of the Matilda Joslyn Gage Foundation in Fayetteville, blazed the trail of Woman's Studies when she earned a doctorate in the History of Consciousness at the University of California Santa Cruz in 1974. Taking a multifaceted approach to social progress is important, in her view. "While focusing on just the vote for a long time, although it was achieved some 30 years later, other issues got lost. Reproductive rights, equal pay and the Equal Rights Amendment, discussed long ago, are still matters of contention," Wagner observed.
Deborah L. Hughes, President and CEO of the National Susan B. Anthony House and Museum in Rochester said this week, "Sally and I both are passionate, but from a slightly different perspective. For Gage, the greatest  risk was to lose freedom of religion. She'd prefer to deny some the right to vote than to recognize any official belief. Susan B. Anthony didn't take religion so seriously, probably because of her Quaker understanding. Anthony held to what she believed and dismissed the rest. She didn't invest power into the religious groups," Hughes said, adding, "Anthony said, &#8216-We don't need to worry about those people getting the vote. Just get the vote!'"
Gage, on the other hand, according to Hughes, was "dramatically concerned about the N.R.A. – National Reform Association – declaring Jesus Christ the Lord Of All Nations during the Civil War."
Hughes explained that the N.R.A. Felt the Civil War was god's punishment for the sins of the young nation. "What those sins were was not specified. They could range from the sin of slavery to drunkenness," she said.
Anthony died March 13, 1906. The annual commemoration at the Susan B. Anthony House includes a brief proclamation read by Hughes which entails a call to continue the legacy of fighting for justice. This year, Hughes quoted Anthony's instructions regarding her funeral: "Pass by, and go on with the work." Said Hughes, it's just a 2 minute statement, but today people were visibly moved to tears."
Hughes and Wagner are both aware of the strong effect that Anthony and Gage have on the public to this day. "Occasionally a gentleman gets dragged along by a woman. They're as moved as the woman is. Susan B. Anthony was present," Hughes observed.
"There's something magical about being in the place where it really happened," Wagner said. "There's an emotional reaction." Visitors to the Gage house get to sit at the desk where she worked with Anthony and Elizabeth Cady Stanton. They leave notes. It's a powerful experience." There are many such interactive exhibits at the Gage house.
In celebration of Women's History Month, "Brimstone, Booze and the Ballot" is a fundraiser for the Susan B. Antony House, the Matilda Joslyn Gage Foundation, and Votes for Women 2020. Tickets are $20.20, in honor of the year 2020, which marks the 100th anniversary of voting rights for women. The event at the Rosendale Theatre, 408 main Street, Rosendale, NY (Ulster County) 12472 on Friday, March 22, 2013 starts at 7:30 p.m. (845) 658-8989, www.rosendaletheatre.org.