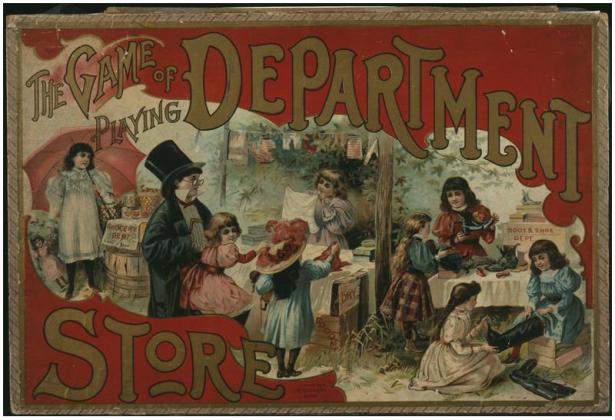 Monopoly has long held the title of America's most capitalist board game—a mad scramble to accumulate as much money and property as possible before someone accuses the banker of cheating and storms off (or was that just in our family?). Still, perhaps it's time to bring another commerce-centric board game into the mix. What about The Game of Playing Department Store?

From the 1840s to the 1920s the American home transitioned away from being the center of economic production, as work moved to factories and office buildings. Instead, it became the center of education and entertainment, and middle-class families embraced their new home time with leisures like board games. New York City quickly became a center of American chromolithography and the hub of the nation's vigorous board game industry.
Many of these games reflected everyday life and work, such as Bulls and Bears: The Great Wall Street Game, which was inspired by the 1873 financial panic- or Around The World With Nellie Bly, which let kids at home pretend to be the intrepid journalist who attempted to circumvent the world in 80 days. The department store was another popular innovation in everyday life in the 19th century. Instead of schlepping across town for your goods, or for the materials to make them, everything could  now be found under one roof. What convenience! Jewelry, toys, ready-made clothing, and food all without having to leave the building.
On the heels of both the department store's and the board game's rising prominence, the McLoughlin Bros. created The Game of Playing Department Store. The goal was to accumulate the most goods while spending your money as economically as possible. You could grab a Toy Elephant for fifty cents, or splurge on a wine pitcher for two dollars. There was also something called a Candy Cat for just twenty-five cents. Anyone know what that is? For now, we'll just reminisce about a time when lobster cost a quarter.
Illustration: McLoughlin Bros., The Game of Playing Department Store, 1898. Cardboard, wood, paper. The Liman Collection, 2000.715
Related Articles
Kathleen Hulser: History in 100 Objects
1853 Singer Sewing MachineMaterial culture stormed the British airwaves several seasons back when the BBC broadcast "A History of the World in 100 Objects." Accompanied by a popular websi...
Contribute To A History of NYC in 100 Objects
A Checker taxicab, a conductor's (OK, not just any conductor but Leonard Bernstein) baton, the blue-and-white Greek coffee cups and the elevator safety brake. A subway token and a mastodon tusk. In...
Brooklyn Museum to Host Annual Brooklyn Ball
The Brooklyn Museum will celebrate the major exhibition "American High Style: Fashioning a National Collection" and the landmark collection-sharing partnership between Brooklyn and the Me...