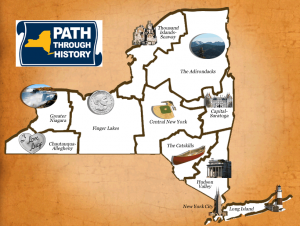 From a press release issued on May 31, 2013:
Governor Andrew M. Cuomo today announced that more than 400 special (emphasis added) events are planned for New York State's Path Through History Weekends and Museum Week at venues throughout the state&#8230-. &#8220Last year, we launched Path Through History to highlight the rich cultural history of New York and to boost tourism in our state,&#8221 Governor Cuomo said. &#8220This weekend is the start of the Path Through History Weekends as well as Museum Week, which will offer some of the best opportunities for families, history buffs, and students to explore over 500 historic institutions and sites in communities all across the state. I encourage New Yorkers to take advantage of these events this summer.&#8221
Aren't you excited to know that more than 400 special events were planned for these two weekends and the following week in June? Aren't you eager to see the results of the all the regional planning sessions and state leadership that has gone into creating the special events?
I know I was. But I confess that as a longtime watcher of the Hudson Valley Ramble and knowing that the same people are involved, I expected the same results: grassroots organizations doing what they do without any funding, assistance, or leadership from Albany, listing their events on a website, and the state taking credit for the attendance. Let's look and the Path through History website and see if my fears were justified or if I am simply some small-minded whiner who deserves to be ignored as the Path project does.
According to the events calendar page for the Path through History weekends at there are 268 events listed. Perhaps the other events are for Museum Week. The website conveniently enables one to categorize the events by type with some events being coded as more than one type. By selecting the different types available the following results are produced. There are:
30 walks
29 lectures
29 open houses
91 guided tours
Correct me if I am wrong, but aren't these the exact types of activities which historic activities do throughout the summer including Museum Week and throughout the year if they are open year round? Is Path/Ramble saying these are special events? Is Path/Ramble trying to take credit for the routine events that historic organizations do? Even though it was not the catalyst for the events, didn't help plan them, and didn't help fund them?
In past years, New York State Heritage weekends were in May and NYS took credit for the walks, lectures, open houses, and guided tours which occurred on those weekends. Did organizations change the dates of their events from May to June to be listed on the website? Do organizations have events in both May and June? If Path/Ramble designated July 4 a History Day, would it take credit for the Macy's fireworks, the local parades, and all the celebrations which occur then? The June weekends after Memorial Day when organizations are cranking up for the summer vacation period probably are a better time to maximize the listings than the week before Memorial Day. It's also a great example of the power of New York State to play Simon Says with the history community: Do this on this date or be voted off the website!
If you think I am being bitter and small-minded, unnecessarily trashing the great work which is being done, let's turn to some events which might qualify as special and not routine. For example, there are 9 festivals listed which would suggest something special and not done every weekend.  One listing is the 17th Annual Rhubarb Festival in Montgomery County- that's certainly not a regular weekend event. Regular annual event, yes but every weekend, no. Do you think without the Path through History Weekend designation the 17th annual festival wouldn't have been held?  How about the18th Century Spring &amp- Garden Fair at the Herkimer Home State Historic Site which invites people to join them at their annual event? And that's on a state site.
There are 91 events listed as special events which include some overlap with the 9 festivals. One prominent event is the 21st Annual Civil War Weekend in Peterboro. According to its website, not the State's, "The Civil War Weekend is organized and operated completely by volunteers. All profits from the weekend are used to continue the work of preserving and restoring the historic sites in Peterboro." I am sure they could have used some of that $60,000,000. But now it is a Path event so Path/Ramble can take credit for it with the media. Come to think of it, I was asked if I would promote it as well so I guess I can claim it as an IHARE event, too!
Some of the other special events are:
Binghamton Zoo at Ross Park: "Visit America's fifth oldest zoo! We're open daily from 10:00 am &#8211 5:00 pm with the last tickets sold at 4:00 pm"
NBT Bank of Johnson City Guided Tours which also is coded as a guided tour
Farm Lane Trail Hike: Take a hike with a Park Ranger on Farm Lane Trail, and learn all about how FDR used his land, and his love of trees. How often do you think the NPS offers this tour? Just when NYS tells it to?
Dedication of Historic Mentz Church Roadside Marker: Dedication of Historic Mentz Church and cemetery marker and annual meeting of the Montezuma Historical Society. While the meeting is annual, the dedication of the marker is not. Would the historic marker have been dedicated if the Path didn't exist?
Rather than belabor the point that Path/Ramble functions more as a listing project, which is a perfectly valid and needed service, and not as a catalyst, organizer, planner, or funder of history-related activities, let me close with an event closer to home.
The Historical Society of Rockland County is conducting another bus tour. I receive emails from it about its trips on a regular basis. They routinely fill up. The latest one was on June 1 so it could be listed on the Path website. What did the Path through History project contribute to the initiation, planning, promoting, or funding of this bus trip to make it a success?
Why did our Governor take credit for with the media for all these events which happen all the time and to which he did not contribute anything? I prefer to believe that his desire to improve tourism especially upstate is sincere, that he is unaware of the facts on the ground, and that there is no one to tell him the truth either in the Path/Ramble bureaucracy or the weak divided history community or who can stand up to the Tourist-Industrial Complex.
According to an article October 9, 2012 in the New York Daily News with the long title &#8220Unhappy with the state's tourism performance, Gov. Cuomo has ordered a restructuring of the state's efforts, with an eye toward attracting more visitors upstate&#8221 [story link]:
Cuomo, the aide said, wants a "more comprehensive effort" that could include ads, better coordination with tour operators, and close interactions with local economic development councils. The initiative will start with the hiring of a tourism and economic development expert and additional staff. Currently there are more than 20 people in the tourism division. An outsider will be hired to oversee the effort, the aide said&#8230-.

"Right now everything is done with a very piecemeal a
pproach- there's not a lot of creative thinking," the Cuomo aide said. While more money could flow to tourism, it won't add to the overall budget, the Cuomo source said. "It's just realigning priorities," he said.
So besides the $60,000,000 there are the staff costs in the tourism department which is money taken from elsewhere&#8230-perhaps as the $60,000,000 was, perhaps as the money for the new signs was, perhaps as the money for the new website was. Imagine what could be done to support the history community if the Governor had chosen that path instead. All one can say is "Thank God the era of no creative thinking and the piecemeal approach is over and historic sites and tour operators are now working collaboratively." The media have been played. So has the history community. So have the tax payers.
P.S. I was planning to do a post in response to several replies both private and public to my previous posts on the need for the history community to organize but Bruce Dearstyne beat me to it with his post "New York History Community: A Time for Action?" I plan on a "Kudos" post as a shout-out to some people and groups who are doing great work. It's nice to write about something positive.