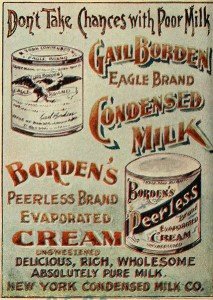 There is a mansion on a large bluff overlooking the Wallkill River Valley. It stands watch over what was once the Borden Farm, center of the Borden Condensed Milk empire. Sweeping views are forever tied to the mansion- from the Hamlet of Wallkill and farm fields, to the Lyon's Dam on the Wallkill River and the Shawangunk Mountains. It was here that the daughter of John G. Borden, son of the founder of condensed milk, decided to make her home starting in 1900.
Marion Borden, the daughter of a wealthy dairyman, grew up knowing adversity. At an early age, she was struck by polio and struggled with its aftereffects, especially trouble walking, for the rest of her life. By age 8, Marion had lost her father, John, then just 47 years old. Her relationship with her father was described as close. The Borden Family, which included John's wife, Ellen, Marion, and three other children &#8211 Lewis, Gail, and Penelope (known as Nellie) &#8211 continued their father's giving spirit, as well as that of their paternal grandfather, Gail Borden, Jr. For Marion, attending a different school than her siblings early in life, that was closer to the farm because of her disability, also influenced her greatly, especially when it came to helping children.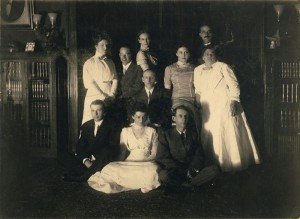 Marion's grandfather, Gail, established Freedmen Schools in Texas after the Civil War. According to legend, Gail's son John was wounded in the Civil War, and credited an  African-American soldier with saving his life. John never forgot that deed, and according to local he searched for the man, as well as his family, after the war. Once he located them, he moved them all to the Borden Farm in Wallkill where they lived the rest of their lives. When members of the family passed away, John had them buried in a small graveyard, located at the corner of modern day Routes 208 and 300.
When Marion reached maturity, she inherited her father's multi-million dollar business. Some eight decades after Marion's death, her kindness with her fortune is still remembered by the community that she called home. In fact, John's daughter took philanthropy to new heights. For example, the caretaker of the Borden mansion relates all-too-familiar stories of Marion seeing less fortunate children along the road, and commanding her chauffer to stop- she then would exit the car to make sure that these children were provided for out of her own pocket.
Having been a lifelong adherent to the central tenets of the Girl Scouts of America, Marion gave a sizable parcel, over 50 acres, to the Ulster County Girl Scouts in 1923- this is still known today as Camp Wendy. A large endowment allowed for the camp to meet all of the children's' needs. Camp Wendy was named after a character in the book Peter Pan.
Being a strong believer in education, Marion helped create the Wallkill Public Library and not only donated land to the effort, but also left a large endowment. As a member of the Wallkill Board of Education, board meetings were held in her mansion. During one of these meetings, Marion's husband, George Halliday, offered a piece of land on which a high school could be constructed- he eventually rescinded the offer. Marion then decided to offer another parcel of land- this proposal was put to a vote and was soundly defeated.
It can be inferred from the board's minutes that Marion was asking for compensation for this land. Once Marion's original idea was defeated, she decided to just give the parcel to Wallkill for construction of a high school. This new proposal was accepted by the Board of Education in December 1919. The high school, now the John G. Borden Middle School, was named for her father.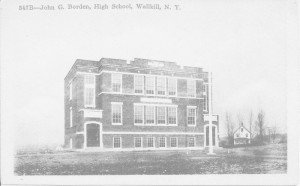 The high school was completed in 1922 with plans for additions including a swimming pool and auditorium. Marion had also earlier given money towards the construction of a multi-purpose room, which was part of the Dutch Reformed Church &#8211 students from the high school would be allowed to use it. The swimming pool was never constructed, but a gymnasium and auditorium were built in the 1940s and were subsequently named after Marion Borden.
Marion passed away in New York City on November 3, 1930. She was the same age as her father when she died. Although she still had siblings, she did not have children, though she had been married for a short period of time until the tragic passing of her husband.
Even in death, Marion continued her tradition of giving. She gave large sums of money to the library in Wallkill, the Girl Scouts of America, Kingston Hospital, The Salvation Army, St. Luke's Hospital, the YWCA, and the Orthopedic Hospital of New York (to name a few). Her beloved mansion and the acreage surrounding it were willed to the Masons, who were permitted to sell off parcels of land to maintain themselves and the estate.
Perhaps Marion's greatest gift was to the workers of the Borden Condensery. Every worker was given a year's worth of salary and some additional monetary compensation, which depended on their years of service and dedication at the Borden's company. Some lifelong employees were given sums as large as $25,000. Some employees were given shares of stock in the company.
This September is the 75th anniversary of the Wallkill Central School District. The district's first school would not have been realized without the generous contributions of Marion and the Borden Family. The celebration starts on September 27, 2013, and continues to September 29, 2013 and will include food, lectures, demonstrations, tours of the Borden Mansion and grounds, and an example of a one room schoolhouse where the district began.
Photos: Above, a Borden advertisement from 1898- middle, John G. Borden High School- and below, Marion Borden (far right) (both courtesy of the Shawangunk Historical Society).