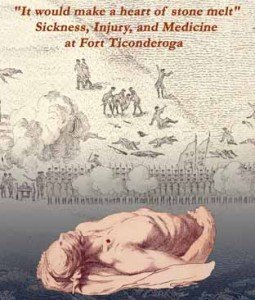 Fort Ticonderoga's newest exhibit, "It would make a heart of stone melt": Sickness, Injury, and Medicine at Fort Ticonderoga, is now open. The exhibit explores early medical theory, practice, and experience as each relates to the armies that served at Fort Ticonderoga in the 18th century.
Organized into several sections, the exhibit presents an overview of medical practices, diseases of the army, and the treatment of wounds for the armies that fought in America during the French and Indian War and American Revolution.
&#8220Medical care of troops was of paramount concern to the armies that sought to attack or defend Ticonderoga, and lessons learned at Ticonderoga had a direct impact on the outcome of the American Revolution,&#8221 Chris Fox, Fort Ticonderoga Curator of Collections, said. &#8220The health and well-being of an army had a direct impact on its effectiveness on the battlefield.&#8221
When the American army was struck with a smallpox epidemic in the aftermath of the invasion of Canada during the winter of 1775-1776, the army had to take swift action. American commander Colonel Benedict Arnold implemented a comprehensive, but controversial inoculation program to rid the army of the disease. As a result of his actions, the American army in New York was largely free of smallpox by the spring of 1777. So successful was the program of inoculation that General George Washington implemented a similar program for the army as a whole following year. As a result, the American army became virtually free of one of its most serious ailments which led to a stronger army and helped secure American independence.
&#8220The creation of this exhibit is an important step in a process to improve Fort Ticonderoga's exhibits and make them more engaging and informative for the public,&#8221 said Beth Hill, Fort Ticonderoga President and CEO. &#8220Our exhibits combined with related interpretive programming bring the Fort to life in a groundbreaking approach that continues to place Fort Ticonderoga as a premier destination experience and nationally recognized center of learning.&#8221
The new exhibit is included in Fort Ticonderoga's general admission price and will be on display throughout the 2013 season. For more details visit www.fortticonderoga.org or call 518-585-2821.