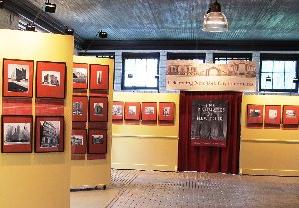 The Jay Heritage Center kicks off NY Heritage Weekend and the Path Through History Weekend with the opening of their first major photography exhibit, The Landmarks of New York, on Sunday June 2nd at 3pm.
The show fills their newly configured gallery space at the 1907 Carriage House and includes a collection of 90 black and white photos documenting a select cross-section of New York City's best loved architectural treasures.
Visitors will recognize the exterior silhouettes of iconic structures like the Little Red Lighthouse or Rockefeller Center but be equally intrigued by lesser known landmarks like the star studded interior of the Paradise Loews Theatre or the Alice Austen House on Staten Island, home to one of America's earliest female photographers. The buildings highlighted span more than 300 years from 1640 to 1967.
The opening reception is free and open to the public. Dr. Barbaralee Diamonstein- Spielvogel, Vice Chair of the NY State Council on the Arts and curator of the touring exhibit will give a talk and sign copies of her book. Refreshments will follow.
In 1966, Dr. Barbaralee Diamonstein-Spielvogel became the first Director of the New York City Department of Cultural Affairs. She also served as a Commissioner of the NYC Landmarks Preservation Commission from 1972 to 1987 and was Chair of the NYC Landmarks Preservation Foundation from 1987 to 1995. She is currently the Chair of NYC Landmarks 50, commemorating the 50th Anniversary of the organization and the NYC Landmarks Law.  She was appointed to the United States Commission of Fine Arts in 1992 by President Clinton and in 1999 Dr. Diamonstein-Spielvogel became the first woman elected Vice Chair of the Commission. In 2008, President Obama appointed her to the American Battle Monuments Commission
The Landmarks of New York will be on display at the Jay Heritage Center from June 2 through Labor Day. The exhibit was made possible with the support of the NY State Office of Parks, Recreation and Historic Preservation, The Preservation League of New York State and the NY Historical Society with funding provided by JP Morgan Chase.
Jay Heritage Center is located at 210 Boston Post Road in Rye, NY.