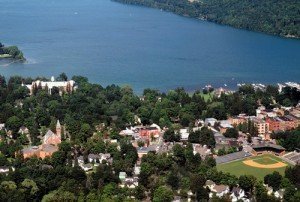 Local historians and educators from across the state will gather in Cooperstown for the 2013 Conference on New York State History taking place June 6-8 at the Fenimore Art Museum and The Farmers' Museum. The conference highlights the latest research on New York History and culture. The conference is open to the public.
Several features of this year's conference are of interest the general public: The keynote address is by Walter Stahr, author of Seward: Lincoln's Indispensable Man, the evening of Friday, June 7 at 7:30 p.m. in the Fenimore Art Museum auditorium. On Saturday, June 8, the annual Wendall Tripp Lecture offers "Another Leatherstocking Tale: Susan Fenimore Cooper, the Episcopal Church, and the Oneida Indians," delivered by Laurence Hauptman of SUNY New Paltz. This lecture takes place at 12:30 p.m. in the Louis C. Jones Center of The Farmers' Museum.
At the Conference on New York State History, academic and public historians, librarians, archivists, educators, publishers, and other interested individuals discuss topics and issues related to the people of New York State in historical perspective. Each year they share information and ideas regarding historical research, programming, and the collaboration of resources and services. The New York State Historical Association is proud to sponsor the Conference in collaboration with the New York State Archives Partnership Trust.
Registration is open to the public, either for the full conference or a single day. To register, call (607) 547-1453 or visit NYSHA.org where a complete conference schedule is also available.