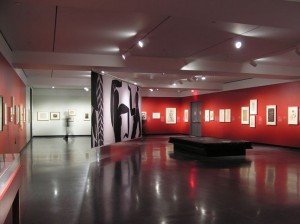 A major new first-floor Brooklyn Museum gallery opened in March with Fine Lines: American Drawings, which will remain on view through May 28. The new 6,000-square-foot space is the latest step in a phased renovation that will, within the next two years, dramatically alter the entire first and second floors of the Museum's McKim, Mead and White building.
This new space, designed by Ennead Architects, incorporates both a larger and a smaller gallery and two vestibule areas. It is named the Robert E. Blum Gallery&#8211as was the previous special-exhibition gallery on the first floor.

&#8220This remarkably elegant new gallery space is the perfect venue for exhibitions such as Fine Lines where the space, intimate yet expansive, beautifully shows our important holdings of drawings to their best advantage. It is a significant step in the transformation of the Museum's first floor into spaces that are dynamic, welcoming, and engaging for all of our visitors,&#8221 said Museum Director Arnold L. Lehman.
With the goal of enhancing the visitor experience at the Brooklyn Museum, the first-floor renovation began in 2004 with the opening of the Rubin Pavilion, the Ennead-designed, critically acclaimed front entrance hall, as well as the renovated main lobby, redesigned public plaza, new South Entrance, and expanded parking facilities. It continued in 2011 with the re-opening of the redesigned two-story-high, colonnaded Great Hall, which houses a lofty central gallery where Connecting Cultures, an innovative and visually dynamic introduction to the collection, is on view. In 2012 a relocated and totally redesigned and enlarged Museum Shop opened to the public. The award-winning architectural firm Visbeen Associates designed its interiors and worked with Ennead Associates in making the Shop's entrance directly accessible from the Lobby. Later in 2012, the new Museum Cafe took over the Shop's former space as well as the glass corridor overlooking the Sculpture Garden- at the same time, a large space for a formal restaurant, an outdoor terrace for warm-weather dining, and a bar were added.
This massive two-floor project will continue late this spring with the last phase of renovation on the ground floor, which will produce a second wing of gallery space devoted to the Museum's collection of African art, and, beginning this July, new gallery spaces on the second floor that house the Museum's rich Asian and Islamic collections. Updated climate control and other infrastructural systems are major components of this multi-year transformation.
Funding for these projects has been provided by the City of New York, the Brooklyn Borough President, and the Trustees of and donors to the Brooklyn Museum.
Photo: Robert E. Blum Gallery. Brooklyn Museum Photo by Adam Husted.