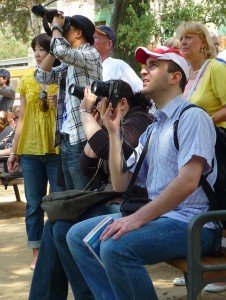 Now that Memorial Day has passed and the summer tourism season is officially underway, it should be no surprise that the New York Times is full of articles about tourism. One article features Greece and the lure of the classical world for tourists. Greece has been experiencing a rocky road as of late but tourists are returning now that the situation appears to have stabilized.
Greece needs a shot in the arm from tourists given the plunge in the economy, so it would seem that the classically-named cities of upstate New York and the actual homeland of those cities have something in common.
Visitors to Greece are advised to check the website Living in Greece before leaving home. One person who took that advice is an American high school teacher who brought 30 students to Greece in April. According to news reports, his students gazed upon the Parthenon in "awe"  demonstrating that seeing something in person is different than seeing it on a TV or computer monitor. The upstate New York architectural equivalent would be all those classically-inspired buildings dotting our own landscapes. So let's hear it for field trips to historic sites!
Interestingly, this high school teacher did not choose to create his own &#8220Path through Greece,&#8221 but instead chose an American tour company. Undoubtedly this saved time and aggravation. He didn't have to conduct internet research for places to visit. He didn't need to become an expert on the logistics of foreign travel, which sites were open on which day, and for what hours. Experts did that for him, experts who offer a variety of packages to accommodate individual needs.
There are two lessons to be learned from his experience:
1. Where is the Teaching in New York History program? If I could arrange for a busload of teachers from Vermont to travel in New York, to stay in New York motels, and eat at New York restaurants as part of a Teaching American History program, then why can't New York State create (meaning fund) a Teaching New York History program to do the same?
2. Where are the tour operators in the Path through History program?  If I could arrange for teachers to visit the sites in the Champlain, Hudson, and Mohawk Valleys, then tour operators certainly can do the same. So far there are no paths in the Path through History project, just one-shot visits mainly by local people who go home at night.
What efforts have been taken to develop paths with the people who specialize in tours? I recognize that there is more going on in the project than I am aware of, but so far I have not heard of anything being done in this area. Suppose that teacher had wanted to tour with 30 people, students, teachers, history lovers, or all of the above, in New York State, where would he have turned?
At the upcoming Conference on New York State History, the State Historian, the New York State Historical Association, the Association of Public Historians of New York State, and other history related organizations will meet privately to discuss the direction of history-themed activities in the state.
I look forward to the results of that discussion.