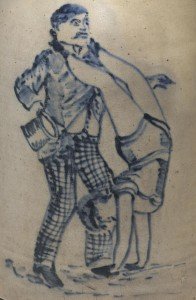 A four-gallon stoneware jug manufactured by Fulper Bros. in Flemington, New Jersey during the 1880s is now part of the New York State Museum's Weitsman Collection of American Stoneware. Now on display at the State Museum, the historically significant piece of stoneware was recently acquired for the Museum by stoneware collector and benefactor, Adam Weitsman.
According to an announcement release to the press today, &#8220The acrobat jug, a sought-after example of decorated American stoneware, has been breaking stoneware record prices at auction for decades and Weitsman had wanted the piece for over thirty years.&#8221 Weitsman recently purchased the jug from Allen Katz Americana the statement says.
According to State Museum officials, Abraham Fulper produced an assortment of earthenware, stoneware and tile products at his Flemington, New Jersey pottery in the 1860s and 1870s. After his death, his sons continued the pottery and during the 1880s the company became known as Fulper Bros. or Fulper Bros. &amp- Co.   Fulper Bros. stoneware often featured unique decorations. &#8220The acrobats on this jug may have been inspired by a traveling circus or performers at the nearby annual agricultural Flemington Fair,&#8221 a press release issued by the State Museum said.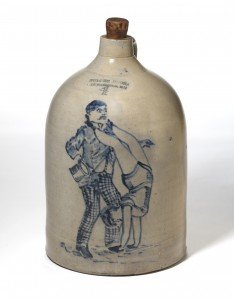 Stoneware was the plastic of the nineteenth century, used to create a variety of utilitarian vessels for the storage and processing of food and liquids. The potter, or in some cases a talented decorator who worked at the pottery, would enhance these utilitarian wares with artful designs that are today considered prime examples of American folk art.
The jug is currently on exhibit at the New York State Museum, along with forty other pieces of the Weitsman stoneware collection, and will be featured in a forthcoming book, Art For the People: Decorated Stoneware from the Weitsman Collection by John Scherer, Curator Emeritus of the State Museum, that will illustrate some two hundred pieces of decorated stoneware donated to the State Museum by Adam Weitsman since 1996. The collection demonstrates how New York State was a leading manufacturer of stoneware throughout the nineteenth century.
The New York State Museum is located on Madison Avenue in Albany, the Museum is open Tuesday through Sunday from 9:30 a.m. to 5 p.m. Admission is free. Further information about programs and events can be obtained by visiting the museum website at www.nysm.nysed.gov.