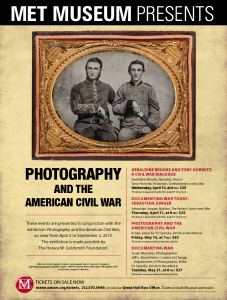 The Met is offering a wide range events in conjunction with their recently opened exhibition, Photography and the American Civil War.
A Civil War Dialogue will take place this evening, Wednesday, April 10, at 6:00 PM ($25). Novelist Geraldine Brooks and historian Tony Horwitz have both written about the Civil War-and are married to one another. They will discuss their work as well as their different approaches to the Civil War and the writing of history. The discussion will be moderated by Bill Goldstein, book critic for NBC's Weekend Today in New York.
Ticket are available http://www.metmuseum.org/online. Upcoming events include:
Thursday, April 11, 6:00 PM: $25
Documenting War Today: Sebastian Junger
One of America's most acclaimed writers and filmmakers, Sebastian Junger collaborated with award-winning photojournalist Tim Hetherington (who was later killed on assignment in Libya) on the Oscar-nominated documentary Restrepo (2010). Junger talks about documenting and photographing the modern battlefield, and about how the camera creates the narrative of war today.
Friday, May 10, 7:00 PM: $30
DJ Spooky: Photography and the American Civil War
Working in tandem with Jeff L. Rosenheim, curator of Photographs at the Museum, Paul D. Miller (a.k.a. DJ Spooky That Subliminal Kid) presents a newly created piece for string ensemble with live-mixed electronic music and video using images from the exhibition.
Tuesday, May 21, 6:00 PM: $27
Documenting War
Jeff Rosenheim leads a conversation with DJ Spooky and acclaimed photographer and filmmaker Susan Meiselas, who gained international acclaim through her coverage of the insurrection in Nicaragua and her documentation of human rights issues in Latin America. Reflecting on the exhibition, Photography and the American Civil War, the panel will explore issues of documentation, creation of history, narrative and the role of the artist at the intersection between art and war.