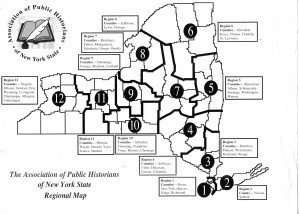 With the annual meeting of the Association of Public Historians of New York State (APHNYS) fast approaching and the centennial of the local government historians law on the not so distant horizon, as Bruce Dearstyne just reminded us, it is appropriate to examine just what is expected from municipal historians.
One may ask the proverbial question, "How are you doing?" &#8211 and take an opportunity to address what the guidelines say, what is being done, and what should be done.
Guidelines for Local Historians can be found on the New York State Museum website.
1. Research and Writing
The first, and primary, responsibility of the Local Government Historian is interpretation of the past. This will involve research and writing on aspects of the history of one's jurisdiction and may include scholarly monographs and articles as well as writing for a more general public audience in magazines and newspapers. Professor Judith M. Wellman noted:
&#8220The best local historians have upheld high standards of gathering and evaluating evidence, making thoughtful and appropriate generalizations, writing well-organized and readable narratives, and sharing their work with others through the most appropriate mediums."
Here is where some thoughtful consideration about the position may be warranted, perhaps as discussion item for the upcoming APHNYS conference. Does "scholarly monographs" mean something like the Journal of American History, a national academic publication, or The Hudson River Valley Review, a regional academic publication? Suppose there is no regional scholarly publication for your county? Regardless of how one chooses to apply the term "scholarly," is it a realistic consideration to expect such writing from county historians? As a full-time employee, Tatum may well have the opportunity, credentials, and training to comply with this guideline but the idea of 62 people producing scholarly monographs and articles about their counties seems farfetched no matter how well-meaning.
Furthermore this guideline was not written solely for county historians but for all local historians. Perhaps it would be appropriate to determine what research and writing would be appropriate at the different levels particularly with the decline of local newspapers and the existence of local presses. Also should the county and state historian for that matter be held to academic standards as if they were on a college tenure track requiring such publications? Since there is no penalty for non-compliance with the regulation to even have a local historian, an unrealistic publication guideline doesn't help the cause.
The actual qualifications listed in the Guidelines highlight the disconnect between what exists on paper and what happens in the real world. The requirements for local historians are:
* A baccalaureate degree with a major concentration in American History or some related field is the minimum recommended qualification for a local government historian.
* For the position of County Historian, which carries with it additional leadership responsibilities as well as the need to comprehend the potentially more complex history of a larger geo-political entity, a Master of Arts degree with a major concentration in American History or some related field is the recommended minimum qualification.
* For historians of the five boroughs of New York City or of other cities with populations of over one million, the Ph.D. degree, with a major concentration in American Urban History or some related field is the minimum recommended qualification.
No matter how well-meaning and well-intentioned such Guidelines might be, they simply bear no relation to what actually happens especially at the local level yet alone the county.
2. Teaching and Public Presentations
The second category of responsibilities also involves the interpretation of the history of his or her community through teaching and public presentations. The Local Government Historian may teach courses in local and regional history, serve as a resource to teachers especially in the fourth and seventh grade local history curriculum, serve as a content consultant to historical agency exhibit planners, speak and lecture to community groups, participate in radio talk shows, and otherwise disseminate knowledge of the history of their locality. In addition, the Local Government Historian may work directly with students and other individuals interested in the community's past.
This guideline lists several quite specific activities in which the municipal historian should be engaged. The guideline states the municipal historian should be involved in the public interpretation of the history of the community and provides examples of several possible ways in which that responsibility may be discharged. Wide discretion is permitted and it is not necessarily required that all these possibilities be followed.
Certainly public speaking is an essential ingredient whether it is in a classroom, in the media, or a public lecture. This requirement seems quite reasonable and appropriate and it would be interesting to know if the public historians are in compliance with this requirement and in what way. This guideline also would appear to be something that calls for a physical presence, meaning someone has to do something. An organization designated as a municipal historian would not seem to be in compliance with this guideline even if it had a publication. This guideline is for a real human being.
The remaining two guidelines are:
3. Historic Preservation
4. Organization, Advocacy, and Tourism Promotion
There is insufficient space to address them in this post. Quite obviously the final guideline is particularly significant for the current Path through History project.
One final thought is the compliance mechanism. Who knows if the municipal historians are in compliance with these guidelines? It is too big a job for the NYS Historian. Should county historians be responsible for the reporting of compliance within their own counties with the NYS Historian monitoring 62 reports, which still is a lot? Could there be a regional level of supervision?
Regardless of the answers there is a lot to talk about in the upcoming conference in Syracuse.