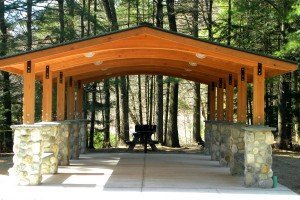 New York State Office of Parks, Recreation and Historic Preservation Commissioner Rose Harvey has announced the state added a 200-acre parcel to Moreau Lake State Park, expanding hiking opportunities in the Adirondack foothills and preserving open space in fast-growing Saratoga County.
Additionally, Commissioner Harvey announced that work has been completed on a new pavilion/outdoor classroom near the park's nature center.
Located on the southern edge of Moreau Lake State Park, the acquisition expands the park's protection of the higher elevation ridge known as the Palmertown Range.  Preservation of the Palmertown Range, which features a Hemlock-Northern Hardwood Forest, is listed as a priority under the New York State Open Space Plan, and will contribute to a planned long-distance Palmertown Ridge Trail.
"It is exciting to see another piece of the puzzle in place. Saratoga PLAN has been collaborating with many partners and trail user groups to advance the vision of a countywide trail network for both recreation and transportation. The Palmertown Ridge Trail is a crucial link in what we call the 'alternative Northway,' which will eventually connect Moreau with Mechanicville and beyond," said Maria Trabka, Executive Director of Saratoga P.L.A.N.
Commissioner Harvey said the visitor experience will be further improved by the completion of a new pavilion in front of the park nature center. The pavilion is expected to enable school groups to participate in outdoor programming under cover, and be available for public rental for picnics and special events.  Rain gutters on the pavilion drain to a newly installed rain garden to help preserve the water quality of Moreau Lake.
The new pavilion is part of a $550,000 contract that also includes rebuilding the campground Loop A comfort station under the Governor's New York Works initiative.  The new restroom building, located just around the corner from the main parking area, is fully accessible and heated to support year-round use.  The project was awarded to a local contractor, Catalfamo Construction of Washington County.
Last year, the park's crumbling campground roads were repaved and improvements were made to the beachfront parking area through the New York Works fund. Governor Cuomo has committed a total of $179 million in total funding &#8212- $90 million in 2013-14 and $89 million in 2012-13 &#8212- through the New York Works initiative to rehabilitate dozens of state parks and historic sites.
In addition to a hiking trail network, the now 4,500-acre Moreau Lake State Park features a sandy swimming beach, nature center and playgrounds, wooded campsites, and shady picnic grove and is visited by 400,000 annually. Park staff offer guided hikes and year-round programming to introduce people to the park.
New York State Office of Parks, Recreation and Historic Preservation oversees 179 state parks and 35 historic sites, which are visited by 60 million people annually. A recent study by Parks &amp- Trails New York found that New York State Parks generates $1.9 billion in economic activity annually and supports 20,000 jobs. For more information on any of these recreation areas, call 518-474-0456 or visit www.nysparks.com, connect on Facebook, or follow us on Twitter.