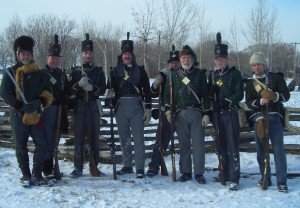 The bicentennial of the Battle of Ogdensburg will be commemorated with re-enactments and special events this weekend Feb 22-24 (Friday through Sunday) at locations in Ogdensburg and Prescott, Ontario.
&#8220Friday evening the Ontario shore will shower us with a barrage of fireworks and Saturday afternoon the invading Anglo-Canadian army will battle the American troops from the waterfront to past Ogdensburg City Hall,&#8221 said Tim Cryderman, President of Forsyth's Rifles. &#8220The invaders will be inspired by the skirl of the pipes and drums of the Stormont, Dundas and Glengarry Highland Regiment from Cornwall, Ontario. After the battle, they'll give a free public concert in the Ogdensburg Public Library.&#8221
A direct descendent of Captain Benjamin Forsyth, who commanded at Ogdensburg during the battle, will attend 200th anniversary activities on both sides of the St. Lawrence. Mrs. Mary Lou Peterson from Boulder, CO traces her line through Forsyth's youngest daughter.
Other Saturday activities include a 19th-century medical display at the Dobisky Center, a ceremonial flag raising before the battle and an evening period dance at the Am-Vets, open to all.
Sunday afternoon Jim Reagan will narrate the re-enacted battle on Lighthouse Point where the Feb. 22, 1813 battle ended at Fort Presentation.
Saturday Fort Wellington in Prescott is open to the public. There will be family activities, a children's muster and an active display of heritage trades and crafts in the visitor center. A 3D mural depicting the raid on Ogdensburg will be unveiled on a heritage building in downtown Prescott in the afternoon.
&#8220In most of America the War of 1812 is unknown, but here it is an important part of our history,&#8221 said Mr. Cryderman. &#8220Think about Ogdensburg's connection to history. The Feb. 22, 1813 invasion from Canada happened on George Washington's birthday.&#8221
For a quarter of a century, re-enactors from Canada and the United States have commemorated the Battle of Ogdensburg. Show them your support at the bicentennial weekend events.
The Stormont, Dundas and Glengarry Highland Regiment descends from the Glengarry Light Infantry Fencibles. Lt. Col. &#8220Red&#8221 George Macdonnell of the original Glengarries led the invading Anglo-Canadians.
An account of the battle can be found in the Dec. 15, 2012 National Post article, Mythbusting tales of Canada's victory in the 1813 Battle of Ogdensburg.
Schedule of the Weekend's Events:
FRIDAY – Feb 22
Special Chicken Dinner at Freight House Restaurant, Ogdensburg &#8211 $10.00
8:30 PM Fireworks – from Prescott Waterfront
SATURDAY – Feb. 23
9:45 AM Military Drills and Demonstration at Fort Wellington
10:00 AM Heritage Interpreters with displays and family activities, Fort Wellington, Prescott
10:30 AM 19th-century medical display at Ogdensburg Recreation Center 1:00 PM Flag-Raising Ceremony &#8211 a salute to veterans and serving military &#8211 Ogdensburg Recreation Center
2:00 PM Battle Re-enactment, Downtown Ogdensburg
3:00 PM The Stormont, Dundas and Glengarry Highland Regiment Pipe Band, Ogdensburg Public Library
3:00 PM Unveiling of the Commemorative Mural, Prescott
3:30 PM Reception at the Forwarder`s Museum, Prescott
7:30 PM Winter Ball (English Country Dance) at the Ogdensburg Am-Vets
SUNDAY – Feb. 24
11:00 PM Wreath laying Ceremony at Sheriff York`s Grave, Ogdensburg Cemetery
2:00 PM Battle Re-enactment at Lighthouse Point, Ogdensburg
Photo: Triumphant soldiers of the re-enacted Glengarry Light Infantry Fencibles strike a victorious pose following a re-enacted Battle of Ogdensburg. Lt. Col. &#8220Red&#8221 George Macdonnell of the original Glengarries led the invading Anglo-Canadians. Credit: Michael Whittaker.