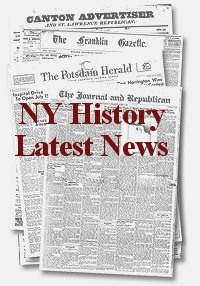 Each Friday morning New York History compiles for our readers the previous week's top stories about New York's state and local history. You can find all our weekly news round-ups here.
Subscribe! More than 3,900 people get New York History each day via E-mail, RSS, or Twitter or Facebook updates.
Related Articles
This Weeks Top New York History News
1881 Town House Sells for $27 MillionFamilySearch Reaches One Billion RecordsNYS Capitol Honored for PreservationBuffalo Project Wins Preservation AwardSyrian World Heritage Site DestroyedHistorian...
This Weeks Top New York History News
Library Clerk Fired Over Storm PrecautionsMuseum Week: June 10-16Security Questioned at NYS MuseumHistory Conference Features Seward TalkThousands Rally for EducationState to Review Adirondack RR P...
This Weeks Top New York History News
Rochester Project Wins Preservation AwardDigital Public Library of America LaunchesData Shows Decline in History MajorsTesting Revolt Underway in Saranac LakeTAUNY Getting Preservation AwardLocal 8...