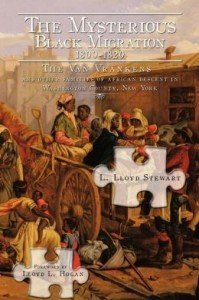 New York author L. Lloyd Stewart has recently published an extensively researched and documented book on African American history in New York State titled, The Mysterious Black Migration 1800-1820: The Van Vrankens and Other Families of African Descent in Washington County, New York.
The author will be at the Rensselaer County Historical Society (RCHS) during May's Troy Night Out, on May 31, 2013. Stewart will give a presentation at 6:30 pm and will be available to sign copies of his book afterward.
The Mysterious Black Migration focuses on the geopolitical and economic conditions that instigated a migration of thousands of "free" African Americans from various New York State counties and New England States to Washington County during a period when slavery was still legal and active in New York State.
Stewart used the archives at RCHS while researching his latest publication, discovering that several of the participants in this migration were former residents of Rensselaer County, who later returned to Rensselaer County.
The Mysterious Black Migration is a byproduct of genealogical research begun by the author in 2000. It is the second in a series of books relating to his family's and other African Americans' experiences in early New York. His first book, A Far Cry From Freedom: Gradual Abolition 1799-1827, was published in 2006.
For more information, call 518-272-7232 or visit the website, www.rchsonline.org