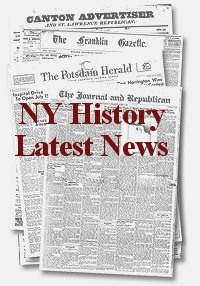 Each Friday morning New York History compiles for our readers the previous week's top stories about New York's state and local history. You can find all our weekly news round-ups here.
Subscribe! More than 3,900 people get New York History each day via E-mail, RSS, or Twitter or Facebook updates.
Related Articles
This Weeks Top New York History News
Mormons Acknowledge Black HistorySequestration Cuts National Archives HoursNew State Archives AccessionsMove On To Common Core AssessmentsA Historic Ship Rots In A ShedDigital Public Library of Ame...
This Weeks Top New York History News
New Military History Book PrizeNYS Museum Week UnderwayEd Hotaling, Reporter-Historian Is DeadWatervliet Arsenal Marks 200 YearsEntire Library Board ResignsHeavy Rainfall Closes CanalCanton Museum ...
This Weeks Top New York History News
Preservation Excellence Awards AnnouncedBrooklyn Library's New CenterSouth Street Schooner Sails AgainSt. Patrick's Bell Tower Defies DemolitionCanals Expect Increased TrafficCuomo Pledges $60M for...