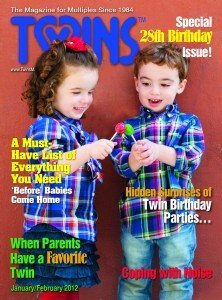 In days of yore (pre-Internet times), I once subscribed to more than a dozen different magazines. Further back, in the 1960s and 1970s, there seemed to be a magazine for just about any subject that anyone was ever interested in. I was reminded of this last year when a saw a cover titled TWINS. The subject matter was everything related to twins: having them, being one, doctoring them, parenting them, and so on.
What really surprised me was the subtitle: The Magazine for Multiples Since 1984. I'd never heard of it, but it has been around for nearly three decades. It also reminded me of some twin-related North Country stories I've collected over the years. Here's a sampling.
The odds would seem stacked against these "twin coincidences," and even more so since they happened when twins made up only 1 to 2 percent of all births. (The modern rate is about 3 percent.)
On January 17, 1931, seventeen-year-old Frederica Edwards of Port Henry died a week after contracting rheumatic fever. Her burial was postponed because Frederica's twin sister, Marion, appeared near death after suffering from a throat disorder for more than a month. Three days later, Marion passed away. A double funeral service was held, with the pair leaving life as they entered it?together.
On Memorial Day 1931, twins Richard and Hugo Franz (age 14) were fishing from a canoe on Saranac Lake with 16-year-old John Dukett. When the canoe flipped, he and the Franz brothers (both of them Boy Scout leaders with Red Cross rescue training) were submerged. The three of them surfaced, and Dukett, 16, a non-swimmer (and much heavier than the Franz boys), was grabbed by Richard. In the ensuing struggle, both boys again went under.
When they re-surfaced, Hugo, who still gripped the canoe with one hand, grabbed Dukett. The twins followed protocol, holding him there while clinging firmly to the canoe and calling for help, which soon arrived. Their coordinated efforts (one holding the canoe and the other diving for their friend) saved Dukett's life, and their own as well.
In 1932, the oddest of circumstances surrounded the birth of twins to Mr. and Mrs. Henry Legault of Massena. Their daughters were born minutes apart, with Cecile arriving shortly before midnight on September 16, and Lucille arriving just after midnight on September 17. Twins, but with different birthdays.
In April 1943, Edward Hatch of Crown Point died at the age of 66. He and his twin brother James had led separate lives, but were joined in death. Edward died just eleven days after James passed away in Tarrytown, New York.
Unlike the Hatches, the Wright brothers of Jefferson County, twins Leander and Lysander, shared identical life stories. They lived on the family farm, never married, and worked in the cheese factory with their father. Both then entered the Jefferson County Home in Watertown. After twenty years there, Lysander died on December 4, 1947. Leander passed away 49 days later. Both deaths were attributed to coronary thrombosis.
In January 1948, 81-year-old Addie Van Orman of Crown Point died from injuries suffered in a fall at home. Fifty-five days later, her twin, Mrs. Abbie Chase, also of Crown Point, died following a heart attack.
In February 1952, at Brady Maternity Hospital in Albany, 23-year-old twins (Mrs. Edmund Rogan and Mrs. Arthur Grant) gave birth on the same day, just a few hours apart. Seems like the odds would be pretty high against that happening to any siblings, let alone twins.
In 1967, Westville native Daniel Rogers died in Pawling, New York, at the age of 94. Until his passing, Daniel and his twin, John, were said to be inseparable. Dan operated a deli in Pawling, down the street from John's business, the Pawling Drug Company. Together they were frequent visitors to Franklin County, reuniting with family and old friends (John did the driving well into his 90s). They were among the oldest twins in the country. John died in 1973, just a few months shy of his 100th birthday.