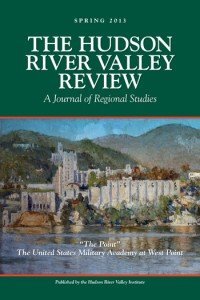 The diverse articles in the newest issue of The Hudson River Valley Review (Spring 2013) perfectly illustrate the pervasive and lasting influence of the Hudson River Valley in shaping America's destiny. The cover article, on a pivotal era at the United States Military Academy at West Point, is adapted from the 2013 Cunneen-Hackett Lecture in Hudson River Valley History.
The editors continue the commemoration of the Civil War sesquicentennial with "'Musket Balls Was Thicker Then any Hail….,'" which traces the actions at Gettysburg of Green County soldiers in the 120th New York Regiment.
The Scholarly Forum includes three reviews of David Schuyler's Sanctified Landscape: Writers, Artists, and the Hudson River Valley, 1820-1909, as well as the author's response to them.
An inaugural Pictorial Essay explores the nation's changing attitudes toward the environment by examining the landscape surrounding Palmer Falls in Corinth on the Upper Hudson —a tourist destination that became an industrial powerhouse.
Teaching the Hudson River Valley is another new feature that will occasionally highlight local programs, strategies, and individuals leading the way in the practice of regional studies and place-based education- appropriately, it begins with an overview of the Teaching the Hudson Valley program and its summer teachers' institute.
A pdf of the latest issue of The Hudson River Valley Review is now available online.