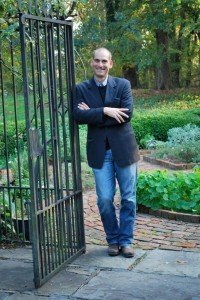 The Rensselaer County Historical Society (RCHS) has announced the 2013 Thomas Phelan Endowed Lecture.  Franklin Vagnone, Executive Director of the Historic House Trust of New York City, will present an illustrated lecture titled, "The Anarchist Guide to Historic House Museums".  The lecture will be held at 10:00am on Saturday June 22 at Bush Memorial Hall on the Russell Sage College campus. The lecture is free and open to the public.
In his presentation, Mr. Vagnone lays out a series of systemic changes that he thinks historic house museums need to enact in order to be around 20 years from now.
Historic House Museums have struggled in the 21st century with dwindling attendance and increasing operational costs.  In an attempt to re-invigorate the museums and re-engage these historic resources with their communities, Mr. Vagnone has developed a new paradigm for their existence which moves beyond the traditional house museum model and considers new ways to preserve historic building so that everyone can use them in new and exciting ways.  The social phenomenon of Historic House Museums holds a unique position in modernity. House Museums have been actual private domestic worlds encapsulated and re-presented as public narrative. These architectural fragments exist in the volatile world between the REAL and the IDEAL – the sensuality of personal experience and the rigorous search for a cultural absolute truth.
In 1997, the Rensselaer County Historical Society established the Thomas Phelan Endowed Lecture Series in recognition of Rev. Phelan's longtime preservation efforts and support of the educational and cultural vitality of Rensselaer County.  Prominent speakers are invited to lecture of topics relating to Phelan's area of study as Institute Dean and Institute Historian at Rensselaer Polytechnic Institute, especially as it pertains to 19th century American material culture and industrialization.  For 2013, The Phelan Lecture is sponsored by the Tom Phelan Memorial Fund of the Community Foundation for the Greater Capital Region, The Sage Colleges, and the New York State Office of Parks, Recreation and Historic Preservation.
For more information, call 518-272-7232 or visit the website, www.rchsonline.org