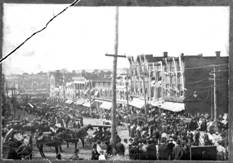 On April 2nd 1813, the Village of Sing Sing (now called Ossining) became the first incorporated municipality in Westchester County. To recall and honor that historic day, the Village of Ossining will be holding a series of commemorative activities from April through October of 2013.
The bicentennial celebration, kicks of with "Ossining in 3D," a historical photo and map show that runs through April 29th and depicts 200 years of Ossining's history including its numerous historically and architecturally significant buildings, structures and sites.
The show includes some rare Hudson River School paintings. One is by Robert Havell the mid 19th century engraver best known for his illustrations of John James Audubon's four-volume "Birds of America." The exhibit is in the Ossining Public Library, 53 Croton Avenue and is free and open to the public.
The Ossining Public Library is located at 53 Croton Avenue in Ossining. For more information about other upcoming events, contact the Village Manager's Office 914-941-3554 and visit www.villageofossining.org
Photo:  Ossining Street Rally for Democratic Presidential Candidate William Jennings Bryan in 1896 (provided).