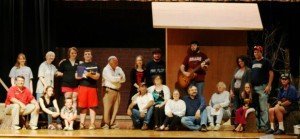 Three organizations – Colton Historical Society, Grasse River Players and Colton-Pierrepont Central School – have announced new collaborative work for 2013 following the successful production of Sunday Rock—The Folk Musical in 2012.  Last year, when they first combined their historical, theatrical and educational interests to produce the show along with author and Colton resident Evelyn Riehl and her family, they received lots of support and encouragement to continue.
The partnership has now committed to presenting a theatrical performance addressing a dimension of history each July around the time Colton celebrates its history. Over the winter plans were made to produce The 1940's Radio Hour and to also pursue an oral history project in conjunction with it focusing on World War II.
The oral history project is being led by members of the Colton Historical Society.  In March a core team interested in oral histories took a course from Jill Breit of Traditional Arts in Upstate New York (TAUNY) to learn how to do oral histories and organize their plans.  More details about interviews and planned products of the oral histories will be shared after the team meets again this week.
Grasse River Players (GRP) will hold auditions for The 1940's Radio Hour being directed by Karen Wells (who also directed Sunday Rock—The Folk Musical).  Auditions will be held on Sunday, April 21 at the Unitarian Universalist Church in Canton from 5-7 pm and on Monday, April 22 from 5-7 pm at the Colton-Pierrepont Central School Auditorium.
The show, written by Walton Jones, will be performed four times at the school in July—before and after Colton Country Day on July 20.  It replicates the broadcast of a radio variety show from 1942 in which theatre goers become the live audience watching a cast of 14 plus a band rehearse and perform songs of the 1940s as well as commercials, messages to the troops overseas and sound effects.  The performers also reveal the drama of their real life situations "off mic."
A description of the characters is available on the GRP website—http://grasseriverplayers.com.  Auditionees should bring a prepared song from the 1940s or big band era with music for the accompanist.  There also will be two non-singing male roles for which people will read from the script.  Those who cannot make either of the public audition times may arrange a private audition by calling Karen Wells at 315-386-4905.
In addition to news stories and the GRP website updates about the ongoing collaboration will be posted on a new Facebook page titled The Sunday Rock Legacy Project.