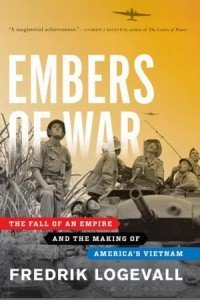 The 97th annual Pulitzer Prizes in Letters, which includes Nonfiction, History, and Biography, awarded on the recommendation of the Pulitzer Prize Board, were announced today by Columbia University.
In the category of History, for a distinguished and appropriately documented book on the history of the United States, Ten thousand dollars ($10,000) was awarded to &#8220Embers of War: The Fall of an Empire and the Making of America's Vietnam," by Fredrik Logevall (Random House), a balanced, deeply researched history of how, as French colonial rule faltered, a succession of American leaders moved step by step down a road toward full-blown war.
Also nominated as finalists in the History category were: "The Barbarous Years: The Peopling of British North America: The Conflict of Civilizations, 1600-1675," by Bernard Bailyn (Alfred A. Knopf), a luminous account of how the British colonies took root amid raw brutality, often with terrible consequences for the settlers as well as the native population, and "Lincoln's Code: The Laws of War in American History," by John Fabian Witt (Free Press), a striking work examining how orders issued by President Lincoln to govern conduct on battlefields and in prisons during the Civil War have shaped modern laws of armed conflict.
In the category of Biography, for a distinguished and appropriately documented biography or autobiography by an American author, Ten thousand dollars ($10,000). Awarded to "The Black Count: Glory, Revolution, Betrayal, and the Real Count of Monte Cristo," by Tom Reiss (Crown), a compelling story of a forgotten swashbuckling hero of mixed race whose bold exploits were captured by his son, Alexander Dumas, in famous 19th century novels.
Also nominated as finalists in the Biography category were: "Portrait of a Novel: Henry James and the Making of an American Masterpiece," by Michael Gorra (Liveright/W.W. Norton), an elegant and enlightening book that brings together the complicated life of a great author and the evolution of his great novel, "The Portrait of a Lady-" and "The Patriarch: The Remarkable Life and Turbulent Times of Joseph P. Kennedy," by David Nasaw (The Penguin Press), a monumental work that tells the story of the relentless tycoon who created a dynastic family that helped shape modern American history and also suffered immense tragedy.
In the category of Nonfiction, for a distinguished and appropriately documented book of nonfiction by an American author that is not eligible for consideration in any other category, Ten thousand dollars ($10,000). Awarded to "Devil in the Grove: Thurgood Marshall, the Groveland Boys, and the Dawn of a New America," by Gilbert King (Harper), a richly detailed chronicle of racial injustice in the Florida town of Groveland in 1949, involving four black men falsely accused of rape and drawing a civil rights crusader, and eventual Supreme Court justice, into the legal battle.
Also nominated as finalists in the Nonfiction category were: "Behind the Beautiful Forevers: Life, Death and Hope in a Mumbai Undercity," by Katherine Boo (Random House), an engrossing book that plunges the reader into an Indian slum in the shadow of gleaming hotels near Mumbai's airport, revealing a complex subculture where poverty does not extinguish aspiration, and "The Forest Unseen: A Year's Watch in Nature," by David George Haskell (Viking), a fascinating book that, for a year, closely follows the natural wonders occurring within a tiny patch of old-growth Tennessee forest.