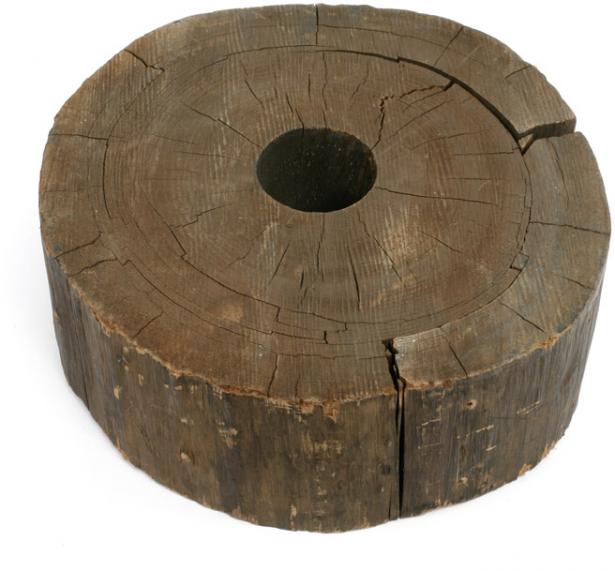 Many New Yorkers say the reason you can't get a good bagel anywhere else is because of New York City's tap water, and indeed, we have some of the best in the country.
But that wasn't always the case. Early 18th century inhabitants rarely had clean drinking water (in fact, beer was a more trusted drink than water), but that all changed in 1799 with the founding of the Manhattan Water Company and pipes like this.
The Manhattan Water Company was a private company founded by Aaron Burr, who wanted to give the city clean drinking water in the face of the yellow fever epidemic. The company was awarded two million dollars for the project But it wasn't that simple. The water came from a well near the unsanitary Collect Pond, located behind City Hall, and at first  was accessible only to those who could afford it. In reality, only $100,000 to start the water company and used a loophole to  use the rest to start the Bank of Manhattan Company. Those not lucky enough to live below Grand Street, or to afford the fresh water, had to rely on wells.
In 1837, two years after the Great Fire of New York, a new engineering project began to bring fresh water to everyone in New York City. The Croton River was dammed, and piping flowed through
Manhattan to the Receiving Reservoir and down to the Croton Reservoir. The project was completed in 1842, and New Yorkers celebrated with fountain displays and a parade. Even President
John Tyler was there!
Today the &#8220watersheds of the three systems cover an area of almost 2,000 square miles, approximately the size of the State of Delaware,&#8221 according to NYC.gov, and three reservoirs have a combined storage capacity of 550 billion gallons.
Photos: Above, a section of wooden water pipe, ca. 1804. From the collections of the New-York Historical Society, a Gift of Stoughton and Stoughton- below, a Croton Aqueduct commemorative medal, 1842.