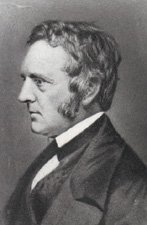 Fort Ticonderoga's connection to the world of chocolate has been well documented over the years. Several additions and improvements were funded by Forrest Mars, Jr., husband of Deborah Adair Clark of Ticonderoga (they are now divorced). Forrest is worth approximately $10 billion as one of the heirs of the Mars candy company.
Eighty years ago, another famous name in chocolate—Baker—was bandied about in Ticonderoga, and it again involved mention of great wealth ($80 million at the time, equal to $1 billion in 2013). But for the village, the story left in its wake an embarrassment as bitter as the company's most famous product (Baker's bittersweet chocolate).
In 1928, a young man arrived in Richmond, Virginia, and responded to an advertisement offering a room rental in the exclusive Ginter Park section of the city. Finding the home magnificent and much to his liking, he paid a month's rent in advance.
During a conversation with his new landlady (a widower), it was revealed that her new tenant was none other than 25-year-old Walter W. Baker, heir to the Baker family fortune of $80 million. He had come to Richmond to escape the busy life in New York City.
Walter settled in and soon developed a closeness with the family, particularly the woman's daughter, Miss Lucille Fields. They dated regularly and were involved in the city's social scene, joining exclusive clubs and spending money like … well, like he had $80 million. Baker bought a luxurious car, flashed big bills wherever he went, and lavished thousands of dollars worth of expensive jewelry and other gifts on Lucille, who became his fiancee.
The family soon learned that Baker was a member of the New York Stock Exchange. Taking advantage of his skills, abilities, and connections, his future mother-in-law entrusted $15,000 ($197,000 in 2013) to Baker for investing on her behalf.
Several months after his arrival in the city, Baker was roused from bed one Friday night by some unexpected visitors—six members of the Richmond police. The officers said he was an impostor, but Mrs. Fields was outraged, and Baker's fiancee protested vigorously on his behalf. Ignoring their appeals, the lawmen searched his room, found $7,000 ($92,000 in 2013) hidden in a gramophone, and escorted to him to jail.
During questioning, police intimated they were privy to his background, and Baker finally relented, confessing that he was an impostor. He was, in fact, Bernard Frederick Champagne of Ticonderoga, New York.
The ruse had worked well for a while, but excessive flamboyance, wild spending sprees in subdued Richmond, and frequent flaunting of $1000 bills had aroused suspicions. Authorities investigated behind the scenes, seeking confirmation of his prominent "Baker's Chocolate" lineage.
They soon learned that Walter W. Baker had died well prior to 1900, and that no members of the original Baker family survived. And that's when Richmond detectives paid the surprise visit to Champagne's Ginter Park residence, arresting him in his bedroom.
A court delay on Bernard's case was imposed, allowing time for further investigation into his past. Champagne had been secretive for years, leaving many gaps in his trail, but enough was uncovered to prove he had been a first-class shyster. Authorities in four other cities, including Detroit and Omaha, sought further information on Richmond's mysterious prisoner.
An honor-roll student in his Ticonderoga youth, Bernard left school at age sixteen and worked at the mill (International Paper Mill). Several years later, he left the North Country for Canton, Ohio, where he married and had a child (both were now living in Ticonderoga).
He then surfaced in Kentucky, where he met a schoolteacher from his hometown, Ticonderoga (perhaps not by coincidence). Passing himself off as Bernard Cunningham, a representative of Universal Film Corporation, Champagne became engaged to the teacher and made off with $600 of her money ($8,000 in 2013). It remained unclear how much money he bilked from other victims while using that persona.
He next turned up in Richmond, where his latest deception had been discovered. No matter what he had gotten away with in recent years, Champagne was now in a heap of trouble.
Less than two months after his arrest, Bernard appeared in a Richmond courtroom on charges of defrauding his future mother-in-law of $15,000 ($197,000 today) and promising "huge returns" on her investments. His fiancee, Lucille, described as "a prominent Richmond society girl," did not testify, but her mother and sister did.
Champagne pleaded not guilty, but employed no attorney and presented no testimony on his own behalf. For that reason, the state's case was pretty much open-and-shut. Bernard's sentence was the maximum allowed by law—ten years in a Virginia prison.
After serving more than six years, he was released, hopefully somewhat humbled by the experience of being arrested and imprisoned. But this was one case where incarceration provided no deterrent.
Next week: Bernard Champagne spawns a national FBI manhunt.
Photo: Chocolate titan Walter W. Baker, the man Bernard Champagne claimed to be.