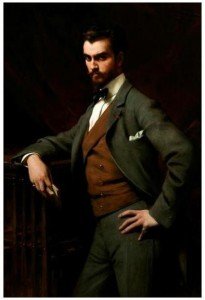 This portrait has captured the imaginations of New-York Historical Society visitors. Who was this dapper man, with his seductively villainous good looks? Why this dashing, bold pose for what seems to be an official portrait?
The man is James Hazen Hyde, though that name may not ring a bell these days. The son of Henry Baldwin Hyde, the founder of the Equitable Life Assurance Society, James was famous for his social and financial success, and the dramatic scandal that caused his downfall.
James inherited the billion-dollar company in 1899 at 23 years old, and his financial success seemed unstoppable (he took directorships at various banks, railroads, and Western Union, and created the investment syndicate James Hazen Hyde &amp- Associates). This was just one year after he graduated from Harvard, where he studied German and French and gained an appreciation for French fashion and culture. He was a known Francophile, styling his clothing and hair after Parisian trends, and sparing no expense for the pleasure.
Hyde was a creature of the Gilded Age, and his excessive tastes exploded at his 1905 costume ball, which was made to look like the court of Louis XV. Hundreds of guests danced in a ballroom decorated floor-to-ceiling with flowers, and the dining room was made to look like a garden at Versailles. However, Equitable president James Waddell Alexander and various board members used this ball as an excuse to claim James was too frivolous to run a company, and a rumor spread that he had billed the entire party to Equitable. Soon the New York State Legislature intervened, and hearings resulted in laws that regulated relations between insurers and Wall Street.
James's New York City reputation never recovered, and in December 1905 he sailed for Paris to live in self-exile until 1941, when he returned to New York. He died in 1959, 100 years after his father founded the Equitable Life Assurance Society.  He was a founder of the Alliance Francaise in America, received the Grand Cross of the Legion of Honor from the French government, and was a member of the Academie des Sciences Morales et Politiques. He was also a member of The New-York Historical Society.
This portrait was taken in 1901, in the midst of his fame and fortune. It was done by French painter Theobald Chartran, who himself has an interesting place in American history! In 1902, Chartran would be commissioned to paint President Teddy Roosevelt's official portrait, but Roosevelt hated it so much that he hid it in the darkest corner of the house, and eventually destroyed it and commissioned another by John Singer Sargent.
&#8220Theobald Chartran (French, 1849 –1907), James Hazen Hyde (1876-1959), 1901. Oil on canvas. New-York Historical  Society, Gift of James Hazen Hyde, 1949.1&#8243-
[/CATS]