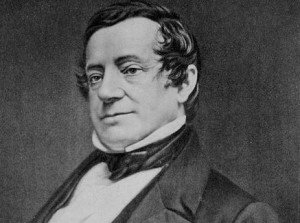 Karen Kelleher, a writer and filmmaker currently finishing a documentary about Washington Irving's literary journey is holding a screening and seeking your support at the Warner Library, in Tarrytown, Thursday November 10th. Kelleher discovered that no film on Washington Irving (1783-1859) existed, the man widely hailed by some as the founding visionary of authorship in the United States. She was inspired by this omission to direct her documentary on Irving and believes that her film will change the impression of Irving as both an author of not just "Sleepy Hollow" but also all of his works especially those works produced in Spain "The Life of Christopher Columbus," "The Civil Wars of Granada," and "Tales of the Alhambra."
The Dutch legacy is one that includes diverse cultures and Irving did not miss the opportunity to explore foreign lands. Irving is the first American writer who authored so many popular storybooks, biographies and historical volumes that bookshops, printers and publishers could establish profitable businesses in New York City and Westchester and thus the industry was partly founded on Irving's personal genius and creative contributions.
Washington Irving also operated with incredible personal integrity and his long friendship with John Jacob Aster is explored in specific consideration of Irving's unique appointment as a trustee of Astor's last will. The current version of the film meets many of the objectives projected thus far. The additional funds are hoped to enable one more shoot date with two authors who agree to read a story from "Tales of the Alhambra" and discuss how this story impacts America's literary tradition and why it is important include "Tales of the Alhambra" in courses and school programs on Washington Irving. Washington Irving produced more works while living in Spain that any other nation.
Interviews Kelleher has completed so far include Kathleen Eagen Johnson, Curator at Sunnyside and author of Washington Irving's Sunnyside and Visions of Washington Irving: Selected Works from the Collection of Historic Hudson Valley; Washington "Rip" Irving III, poet and adjunct professor at Salve Regina University – as well as a descendant of the 19th century author Washington Irving; John 'Jock' Elliott, who has died aged 84 in 2005, was arguably one of the most significant advertising account managers of the 20th century and an expert on Washington Irving's literary influence upon the modern Christmas holiday; Andrew Burstein, Charles Phelps Manship Professor, History Professor at Louisiana State University and author of The Original Knickerbocker: The Life of Washington Irving; Maria del Mar Villafranca, Director of the Patronato of the Alhambra. Karen Kelleher has developed and produced feature films and television programs for Paramount Pictures, Miramax Films, A&E Networks and PBS.
Photo: Daguerreotype of Washington Irving.