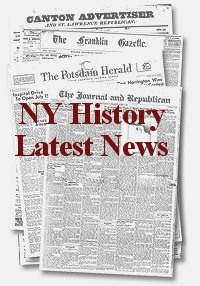 Each Friday morning New York History compiles for our readers the previous week's top stories about New York's state and local history. You can find all our weekly news round-ups here.
Subscribe! More than 4,100 people get New York History each day via E-mail, RSS, or Twitter or Facebook updates.
Related Articles
This Weeks Top New York History News
New Military History Book PrizeNYS Museum Week UnderwayEd Hotaling, Reporter-Historian Is DeadWatervliet Arsenal Marks 200 YearsEntire Library Board ResignsHeavy Rainfall Closes CanalCanton Museum ...
This Weeks Top New York History News
US Gov Pledges Native Sacred Site ProtectionNorth Country Chamber Marks 100 YrsCCC Students Protest LayoffsNew Glimpses of the Twin Towers' PastProposed Atomic Historic Sites Raise IreStudents Seiz...
This Weeks Top New York History News
Advisory Board Offers NPS Strategies17th Cent. Cemetery Into A Park?Architectural Historians Mtg in BuffaloState Parks To Receive Some TLCCorrections Proposes Closing Jail LibrariesUtica Demolishin...