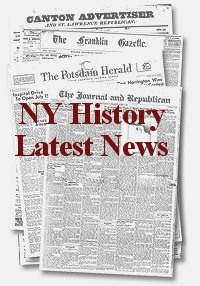 Each Friday morning New York History compiles for our readers the previous week's top stories about New York's state and local history. You can find all our weekly news round-ups here.
Subscribe! More than 4,100 people get New York History each day via E-mail, RSS, or Twitter or Facebook updates.
Related Articles
This Weeks Top New York History News
Conference on NYS History June 6-8Erie Canalway Heritage Excellence RecognizedOldest Complete Torah Found5.7M Mass Land Records Go OnlineNE Military Museum Founder Killed by PoliceBattle of Sackets...
This Weeks Top New York History News
Ireland's Family History Year ProclaimedJet Debris Found Near 9/11 SiteTroy Uncle Sam Project UnveiledAlbany Housing Authority Wins Preservation AwardAmerican Heritage Mag Stops PublishingA NY Tech...
This Weeks Top New York History News
SL: Carnival 'Matriarch' Leaves A Void Amsterdam: Massive Old Factory Fire Spreads Champlain Bridge Archealogy Update Town Suspends RR Corridor Study Iroquois Lacrosse Team Denied Visas By UK ...