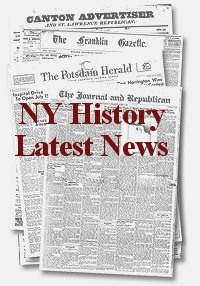 Each Friday morning New York History compiles for our readers the previous week's top stories about New York's state and local history. You can find all our weekly news round-ups here.
Subscribe! More than 4,100 people get New York History each day via E-mail, RSS, or Twitter or Facebook updates.
Related Articles
This Weeks Top New York History News
Met Returns Cambodian StatuesSlavery Historian Robert Fogel DeadCanada Buys Largest War of 1812 Collection5th Ave Sherman Statue Being ReguildedJ.F.K. Terminal To Be DemolishedLast Chance for Women...
This Weeks Top New York History News
New Military History Book PrizeNYS Museum Week UnderwayEd Hotaling, Reporter-Historian Is DeadWatervliet Arsenal Marks 200 YearsEntire Library Board ResignsHeavy Rainfall Closes CanalCanton Museum ...
This Weeks Top New York History News
Library Clerk Fired Over Storm PrecautionsMuseum Week: June 10-16Security Questioned at NYS MuseumHistory Conference Features Seward TalkThousands Rally for EducationState to Review Adirondack RR P...