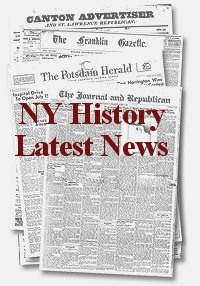 Each Friday morning New York History compiles for our readers the previous week's top stories about New York's state and local history. You can find all our weekly news round-ups here.
Subscribe! More than 4,100 people get New York History each day via E-mail, RSS, or Twitter or Facebook updates.
Related Articles
This Weeks Top New York History News
Senate Bill Cuts NARA Funding 50%Schodack Island Park Celebrating 10 YrsNew NY Census Indexes Now OnlinePhoto Archive Re-emerges at NYPLDecisions of the AHA CouncilBrooklyn Jewish History Goes Onli...
This Weeks Top New York History News
FAA Seeks Historic Aircraft MoratoriumCommunities '-Declaration of War of 1812′-Ellis Island Hospital '-Most Endangered'NHPRC Awards $2.9 Million In GrantsSenate Bill Cuts NARA Fundi...
This Weeks Top New York History News
Woolworth Biulding Eclipsed Double Dutch: Native NYC Game Reinvest New York Policy Update America History in Video Free McCauley Mtn to Celebrate 50 Yrs From Bell Tower To Cell Tower Merryl Tisch I...