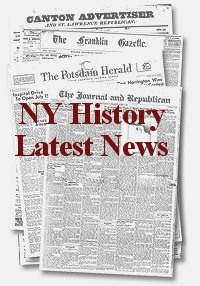 Each Friday morning New York History compiles for our readers the previous week's top stories about New York's state and local history. You can find all our weekly news round-ups here.
Subscribe! More than 3,900 people get New York History each day via E-mail, RSS, or Twitter or Facebook updates.
Related Articles
This Weeks Top New York History News
Rochester Project Wins Preservation AwardDigital Public Library of America LaunchesData Shows Decline in History MajorsTesting Revolt Underway in Saranac LakeTAUNY Getting Preservation AwardLocal 8...
This Weeks Top New York History News
Albany To Resume Ownership Of ChurchSlate Valley Museum Unveils Phase 2Saratoga 150 Details EmergeGroundbreaking On Albany RedevelopmentArt Historian Arrested As '-Peepng Tom'NARA Returning 10...
This Weeks Top New York History News
US Gov Pledges Native Sacred Site ProtectionNorth Country Chamber Marks 100 YrsCCC Students Protest LayoffsNew Glimpses of the Twin Towers' PastProposed Atomic Historic Sites Raise IreStudents Seiz...