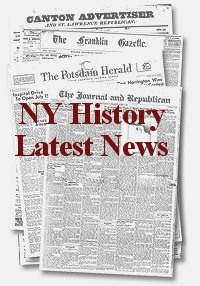 Each Friday morning New York History compiles for our readers the previous week's top stories about New York's state and local history. You can find all our weekly news round-ups here.
Subscribe! More than 3,200 people get New York History each day via E-mail, RSS, or Twitter or Facebook updates.
Related Articles
This Weeks Top New York History News
Teacher of the Year Nominations DueMove to Common Core Assessments BeginsOnline Brooklyn Photo Archive LaunchedManhattan Project's Safferstein DiesExhibit Shows Mary Cassatt, PrintmakerExhibit Revi...
This Weeks Top New York History News
Rochester Project Wins Preservation AwardDigital Public Library of America LaunchesData Shows Decline in History MajorsTesting Revolt Underway in Saranac LakeTAUNY Getting Preservation AwardLocal 8...
This Weeks Top New York History News
Celebrating Black History in NYSProgress in Closing Erie Canal Trail GapsPreservation League Praises SchumerREI CEO Nominated Interior SecretaryPreserve NY Grants AvailableSaratoga NHP Celebrates 7...