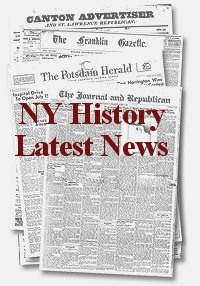 Each Friday morning New York History compiles for our readers the previous week's top stories about New York's state and local history. You can find all our weekly news round-ups here.
Subscribe! More than 3,200 people get New York History each day via E-mail, RSS, or Twitter or Facebook updates.
Related Articles
This Weeks Top New York History News
NYS Musem Exhibits Washington AddressAnniversary of 1763 Treaty of ParisTroy: 33 Years Without A HistorianUncle Sam Statues to Grace TroyAdirondack Historian Williams RetiresCredit Sought For Free ...
This Weeks Top New York History News
Mormons Acknowledge Black HistorySequestration Cuts National Archives HoursNew State Archives AccessionsMove On To Common Core AssessmentsA Historic Ship Rots In A ShedDigital Public Library of Ame...
This Weeks Top New York History News
Teacher of the Year Nominations DueMove to Common Core Assessments BeginsOnline Brooklyn Photo Archive LaunchedManhattan Project's Safferstein DiesExhibit Shows Mary Cassatt, PrintmakerExhibit Revi...