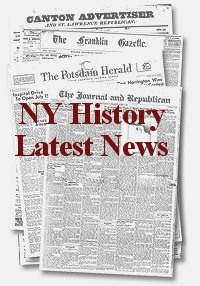 Each Friday morning New York History compiles for our readers the previous week's top stories about New York's state and local history. You can find all our weekly news round-ups here.
Subscribe! More than 3,200 people get New York History each day via E-mail, RSS, or Twitter or Facebook updates.
[/CATS]
Related Articles
This Weeks Top New York History News
DEC Plan for Former Finch Lands UnveiledGrants for Museum AdvancementAHA Launches Adjunct Project100 Years, A World of OystersCuomo Unveils Budget PlanBattle Over Historic RR CorridorConservatives ...
This Weeks Top New York History News
Saratoga-NC RR Expands SeasonNebraska Brace Dead at 83Historians: Older Historic Sites in DangerToronto Star Puts Hemingway OnlineNBC Drops Genealogy ShowLast Rev War POW Camp SavedNNY Casino Cause...
This Weeks Top New York History News
Slavery Museum Bankruptcy DismissedWitch Trial Descendants Want JusticeCommon Core Mtg for Museum EducatorsMohican Artifacts Uncovered in TroyJudge Sustains Mohawk Land ClaimIroquois to Visit Sacre...